Thermofluid System Simulation
Design new concepts for thermofluids networks and systems
The LMS Imagine.Lab Thermofluid System simulation solution is dedicated to the design of thermofluids networks and systems. This thermofluid system simulation solution helps you to develop new design concepts efficiently for a wide range of applications.
The thermofluid system simulation solution is based on the LMS Imagine.Lab Amesim multi-domain system simulation approach and comes with a dedicated set of tools and fluid libraries handling multidisciplinary systems for advanced design: liquid and gas dynamics, gas mixture with variable composition, thermal pneumatics, two-phase flow, air conditioning and cooling systems.
You can further analyze steady-state and/or transient behavior of complex thermofluids networks and systems by investigating pressures and temperatures distribution, flow balancing and heat transfer management. This thermofluid solution allows you to easily improve existing architectures, evaluate potential architectures and develop innovative design concepts.
Thermofluid System Capabilities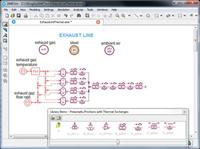 Thermofluid System provides you with these features:
Advanced fluid properties modeling using Helmholtz and ECS state equations for refrigerants and Bode equation of state for thermofluids and real gas modeling
Gas mixture with up to 20 species
Moist air to deal with physical modeling of condensation/evaporation and accurately predict humidity
Advanced preprocessing and postprocessing tools: thermodynamic plot, linear analysis, design exploration and activity index
Significant optimization of overall energy consumption and power management of plant models
Thermofluid System Benefits
Thermofluid System helps you:
Analyze transient and steady-state
Access wide fluids database (such as liquid, gas and refrigerant) described from advanced equation of state
Distribute pressures, temperatures and flow rates
Model different levels of heat exchangers
Access multiscale levels from subsystems to a complete system with control strategies
Gain significant development time through fast CPU time, even on large networks