Mobile Hydraulic Actuation System
Design robust and reliable fluid power actuation systems with hydraulics simulation
The LMS Imagine.Lab Mobile Hydraulic Actuation System simulation solution helps design robust, reliable fluid power actuation systems for crane, crawler, earthmoving and mining equipment, machine tools and more. The hydraulics solution delivers the required insights to reduce power generation (such as variable displacement pumps and load sensing), develop new functions (such as self-leveling and control strategies) and improve product quality, robustness and reliability.
The mobile hydraulics solution provides you with a set of cutting-edge features and advanced simulation tools to:
Develop products with components actuated by hydraulic fluid power systems
Improve product quality with robustness and reliability
Reduce power generation
Develop and optimize new functions regardless of loads and machines kinematics
The dynamic behavior of fluid power systems is difficult to predict because you need to consider every subsystem. For prototyping early in the development cycle, it is efficient to use a single simulation environment for integrating different modules. This results in enhanced compatibility, reduced implementation time, user-friendliness of the interface and no programming effort.
LMS Imagine.Lab Amesim helps the visualization of mobile hydraulics with a 3D visualization tool which seamlessly imports your CAD data, automatically generates a CAD view from your LMS Amesim model and animates simulation results.
Mobile Hydraulic Actuation System Capabilities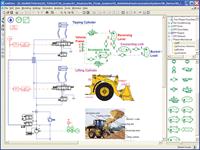 Mobile Hydraulic Actuation System provides you with these features:
Unique concept for hydraulic component design (HCD) modeling
Integrated 2D and 3D mechanism modeling facilities
Ability to interface with all major multibody software
3D animation capabilities
Import/export capabilities to Matlab®/Simulink® for control integration from software-in-the-loop (SiL) to hardware-in-the-loop (HiL)
Total vehicle modeling capability by linking dedicated application libraries
Mobile Hydraulic Actuation System Benefits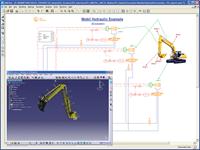 Mobile Hydraulic Actuation System helps you:
Predefine valve design on virtual prototypes before any test
Integrate control strategies from the beginning of the design process
Define actuator impact on mechanical structures
Analyze full vehicle system on a single platform