Electrical System Simulation
Model interactions of controlled electrical power networks, machines and power converters with their loads and supplies
The LMS Imagine.Lab Electrical System simulation solution focuses on electrical power networks and components as well as global electrical power distribution. This electrical system solution can simulate the interaction of the electrical network with a large diversity of electricity consumers – from electrical components to complex subsystems with mechanical, fluid and thermal aspects.
Based on the LMS Imagine.Lab Amesim multi-domain system simulation approach, the electrical systems simulation solution brings a comprehensive set of electrical behavioral models for you to evaluate new architectures (such as sizing of power generation, storage elements and loads), analyze power consumption, and design and validate control laws for electrical machines.
From its advanced features, the electrical system simulation solution significantly helps you optimize dynamic performances, check controls, minimize energy consumption and study the impact on the electrical environment (such as voltage drops and current peaks).
Electrical System Capabilities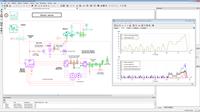 Electrical System provides you with these features:
Electrical motor library with thermal ports
Modeling of power electronic converter
Multidomain platform
Real-time code export for controller validation
Electrical System Benefits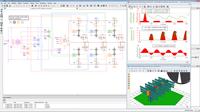 Electrical System helps you:
Analyze electromechanical systems in a multiphysic environment
Evaluate new architecture performance
Analyze energy consumptions
Design and validate control laws
Optimize dynamic performances
Check controls
Minimize energy consumption
Study the impact on the electrical environment