Electric Storage Systems Simulation
Assess energy exchanges of electric storage devices in variable environment conditions
Storing electrical energy is a functional requirement for multi-domain systems. Batteries and ultra-capacitors provide a continuous electrical energy source for applications where mobility and reliability are of utmost importance. As vehicle electrification becomes a common engineering challenge to improve energy efficiency, the use of reversible devices is steadily increasing.
The LMS Imagine.Lab Electric Storage Systems simulation solution helps you accurately evaluates the energy exchanges of storage devices in variable environmental conditions. The Electric Storage Systems simulation solution enables you to model electric storage systems with various complexities and features. Representing behavior is especially important in multi-domain systems to specify power and energy needs, size battery packs, design corresponding cooling subsystems or validate related control systems.
Electric Storage Systems Capabilities
Electric Storage Systems provides you with these features: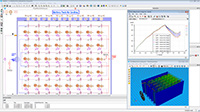 Battery and ultracapacitor modeling
Generic and validated components
Scalable models for different uses
Identification assistant tool for parameter setting of advanced battery modeling
Electric Storage Systems Benefits
Electric Storage Systems helps you: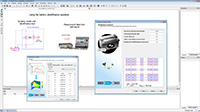 Represent electric storage systems with variable model complexity using powerful features
Accurately evaluate energy exchanges of batteries and similar electric storage devices in variable environmental conditions
Specify power and energy needs in multidomain systems, size a battery pack, design a corresponding cooling subsystem or validate related control systems
Participate in Research and Development Communities
Siemens PLM Software understands the importance of participating in collaborative research and development projects. We are proud contributor to the Everlasting project, helping to develop innovative technologies to improve the reliability, lifetime and safety of Lithium-ion batteries by developing more accurate, and standardized, battery monitoring and management systems.