Landing Gear Simulation
Assess complete multi-domain performance of the landing gear system
The LMS Imagine.Lab Landing Gear simulation solution assesses the entire landing gear system including performance analysis for required functionalities: landing, extension and retraction, braking and steering systems. The solution supports the multi-domain nature of landing gear system design (such as hydraulics, electrics and thermal) and considers system structure and actuator integration. The Landing Gear system solution helps you with challenges posed by physical tests and maintenance cost reduction, sophisticated technologies and materials, and safety and certification requirements.
For landing gear system and suspension, the solution provides an environment for multi-level modeling and simulation. With multibody dynamics integration, structural dynamics and optimization, this solution allows you to assess the full aircraft ground load analysis earlier in the design process to reduce risks and uncover problems. You can develop validated, real-time prototypes from high fidelity simulation models using a single platform and run fewer physical drop tests.
For anti-skid systems, the Landing Gear simulation solution helps you design and validate the braking system function with a combination of electrical, mechanical, hydraulic and control equipment for component modeling (such as pumps and electrohydraulic valves). Using a complete platform, you can study steel, carbon and ceramic brake technology as well as hydraulic and electric actuation. Ensuring a good balance of performance and risk accelerates and enhances the design and validation of these systems.
The Landing Gear simulation solution also helps you design and validate the steering system function with a combination of electrical, mechanical, hydraulic and control equipment. You can design single components (such as servo-controls and actuators), validate component integration and design and validate control strategies.
Landing Gear Capabilities
The Landing Gear solution provides you with these features: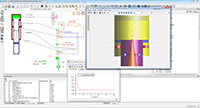 Advanced thermal hydraulic components
Heat exchangers with different modeling levels
Pressure, flow and temperature distribution for various operating points
Direct coupling of pressure and temperature for overall system analysis
Advanced analysis tools for linear analysis and design exploration
Large fluids database of standard and customizable components
Landing Gear Benefits
The Landing Gear solution helps you: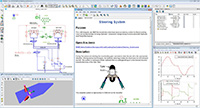 Validate the landing gear system constraints
Analyze functional behavior
Assess multiple design levels, from components to the whole system, with control strategies
Significantly reduce development time, even for large landing gear systems