Aerospace Engine Equipment
Design aircraft engine components and systems and associated controls
The LMS Imagine.Lab Aerospace Engine Equipment simulation solution supports the design and engineering of aircraft engine components and systems including fuel systems, starters, bleed systems and their controls, as well as engine control actuators. The solution helps you design market specific, pressure-feed fluid systems in aircraft engines as well as reliable thermal hydraulic systems.
The Aerospace Engine Equipment simulation solution is based on the LMS Imagine.Lab Amesim multi-domain system simulation approach. It provides dedicated thermal and hydraulics libraries with configurable components that are, once connected together, representative of the hydraulic behavior of the aircraft equipment. The detailed models are based on experimental results of well-known geometries and are suitable to any new geometry or functional requirement. Straightforward coupling between libraries and components allows you to easily run behavior analyses and tests on simple components, as well as on fully integrated fuel systems, at any project step.
The aerospace fluids database of standard and customizable components is based on experimental results and ensures the necessary accuracy and validity of models required in aircraft engine design. The Aerospace Engine Equipment simulation solution helps you improve design quality, while reducing design time as well as the number of experimental tests needed and associated risks.
Aerospace Engine Equipment Capabilities
The Aerospace Engine Equipment solution provides you with these features: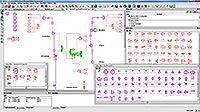 Advanced thermal hydraulic components
Heat exchangers with different modeling levels
Pressure, flow, and temperature distribution for various operating points
Direct coupling of pressure and temperature for global aircraft engine system analysis
Advanced analysis tools including linear analysis and design exploration
A large fluids database with standard and customizable components (now including kerosene, Skydrol® and standard oil)
Simulink® interface and S-function export
Aerospace Engine Equipment Benefits
The Aerospace Engine Equipment solution helps you: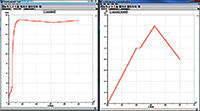 Accurately predict dynamic behavior of fuel systems under transient pressure and/or temperature conditions
Access multiple design levels, from components to complete systems with control strategies
Significantly reduce development time, even for large systems