Femap with NX Nastran Structural Analysis Toolkit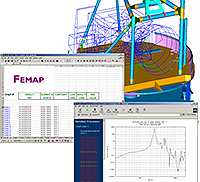 The structural analysis toolkit is an additional module that complements Femap with NX Nastran. It performs efficient and accurate base-driven random and sine simulation from a Nastran modal analysis, directly computing true Von Mises stress and associated margins of safety, and writing the results in Microsoft Excel, Femap neutral and HTML formats. By organizing effective masses, preliminary acceleration responses as well as modal strain and kinetic energies, it allows you to understand modes of importance for your base excitation analyses. It computes stress margins of safety for various Nastran solutions, automatically creates formatted Excel reports and allows you to view the margins in Femap. SA Toolkit uses Nastran grid point forces to compute margins of safety at bonded, welded or bolted structural connections. Element forces are organized and exported to Excel along with component summary tables, in the material coordinate system.
SA Toolkit modifies selected Nastran solution sequences, reads the Nastran .op2 file, computes, filters and sorts results, and writes to ASCII text, Excel, Universal file, Femap Neutral and HTML formats. It includes Excel macros that format the spreadsheet data. The toolkit is particularly useful in organizing numerous, large results data blocks into meaningful summaries, thereby saving post-processing and reporting time.