Femap with NX Nastran - Optimization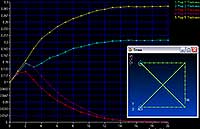 Designing and producing innovative products that meet performance criteria is a goal of every manufacturer. Using optimization techniques, engineers can improve a proposed design, resulting in the best possible product for minimum cost. Because your designs may have hundreds of variable parameters with complex interrelationships, finding an optimal design through manual iterations is hit-or-miss at best. The Femap with NX Nastran Optimization module relieves the burden of improving product designs by automating the iterative process of comparing performance against specifications.
Another important aspect of finite element modeling is the ability to tune the model to best match known test results. The Optimization module can be used to tune the FE model to do just this, and ensuring high quality results from subsequent analyses.