Femap with NX Nastran - Base Module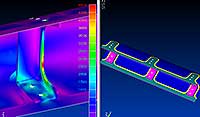 The Femap with NX Nastran base module includes the core subset of NX Nastran solver functionality fully supported within Femap modeling environment and includes a robust suite of linear statics, normal modes, buckling, basic nonlinear, and heat transfer capabilities. This base module provides you access to a broad library of finite element types and material models, robust manipulation of load cases, along with several efficient solution sequences for linear statics analysis (including buckling) and normal modes analyses on models of unlimited size. The heat transfer capability provides solutions to steady state and transient thermal analysis and design problems. The basic nonlinear capabilities include nonlinear static and transient analyses that include large displacement and nonlinear material analysis as well as gap and slide line contact.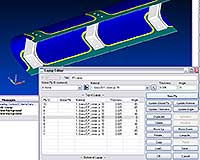 Other functionality also include in this base module includes linear surface to surface contact and glued connection that can be defined either between element faces or geometry surfaces and is easily set up with Femap's assembly management functionality. Also supported in the base module is the CWELD spot weld and fastener element, the fast iterative solver efficient at solving large solid models, and the bolt preload capability.
The Femap with NX Nastran base module can play a key role in your virtual product development process by providing the most widely used CAE solutions for digital prototyping and simulation of product functional performance.