Femap with NX Nastran - Dynamics
Femap with NX Nastran Dynamic response enables you to calculate your product's forced dynamic response to inputs (loads or motion) that vary with time or frequency, as well as compute complex eigenvalues. An add-on option to the Femap with NX Nastran base module, it complements the linear static capabilities found in the Basic solution.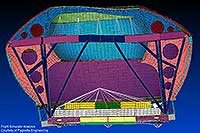 Dynamic response capabilities play a key role in various industries such as assessing passenger comfort in aircraft and automobiles under different operating conditions; determining whether engine frequencies or tire excitations from the road surface will adversely affect responses at other areas of a vehicle, such as at the steering column or in the seats; or, evaluating the effect of vibrations on the performance of consumer products and other high-tech electronic devices.
The capabilities included in the Dynamics module include transient response – the dynamic response of a structure over a period of time, and frequency response, the response of a structure across a range of frequencies. In addition response spectra determination and application, random response and DDAM (Dynamic Design Analysis Method) - a method of shock spectrum analysis largely employed by the US Navy that can be used to determine the dynamic response of a component on board a ship or vessel subjected to shock loading caused by a sudden movement of the vessel due to a phenomenon such as an underwater explosion.