Femap with NX Nastran Advanced Bundle
The Femap with NX Nastran Advanced Bundle includes all of the capabilities of Superelements, DMAP and Aeroelasticity, as well as Dynamic Response. This module also includes the NX Nastran Distributed Memory Parallel (DMP) capability, allowing you to harness the power of multiple processors to accelerate the NX Nastran solution.
Femap with NX Nastran - Dynamics
Femap with NX Nastran Dynamic response enables you to calculate your product's forced dynamic response to inputs (loads or motion) that vary with time or frequency, as well as compute complex eigenvalues. An add-on option to the Femap with NX Nastran base module, it complements the linear static capabilities found in the Basic solution.
The capabilities included in the Dynamics module include transient response – the dynamic response of a structure over a period of time, and frequency response, the response of a structure across a range of frequencies. In addition response spectra determination and application, random response and DDAM (Dynamic Design Analysis Method) - a method of shock spectrum analysis largely employed by the US Navy that can be used to determine the dynamic response of a component on board a ship or vessel subjected to shock loading caused by a sudden movement of the vessel due to a phenomenon such as an underwater explosion.
Femap with NX Nastran - Superelements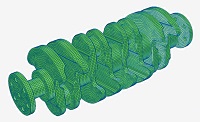 NX Nastran solves large systems of equations efficiently using sparse matrix algorithms however, the superelements capability offers still greater efficiency. Superelements, an add-on to Femap with NX Nastran base module, plays a key role when solving very large and complex finite element models by decomposing larger structures into equivalent sets of smaller substructures called superelements. Superelements can be used with all NX Nastran analysis capabilities. It is particularly efficient in large, full-system analysis such as for an entire aircraft, vehicle or ship, and performs incremental and partial assembly solutions.
Femap with NX Nastran - DMAP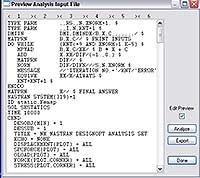 Direct Matrix Abstraction Program (DMAP) is a unique Nastran programming capability available as an add-on to the Femap with NX Nastran base module that allows customers to expand NX Nastran capabilities by writing their own applications and installing custom modules. DMAP can be used to compute additional measures of structural response; to transfer intermediate data to and from NX Nastran (for example, externally generated system matrices); to incorporate the latest software enhancements without waiting for a major software release; or to access more than just the standard results output sets.
Femap with NX Nastran - Aeroelasticity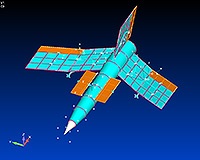 Aeroelastic analysis enables the simulation of structural models in the presence of an air stream. With the Aeroelasticity module, an optional add-on module to the Femap with NX Nastran base module, you have access to static aeroelastic capabilities for stress, load, aerodynamic, and control system analysis and design using a common finite element representation. Aeroelasticity is applicable in the design of airplanes, helicopters, missiles, suspension bridges and even tall chimneys and power lines.
Femap with NX Nastran - DMP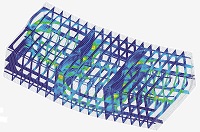 Parallel computing in NX Nastran using the Distributed Memory Parallel (DMP) capability allows you to take advantage of memory and disk resources on multiple computers or clusters, with one or more processors, communicating over a network. Using the NX Nastran DMP capability you will be able to reduce solution time on large models, reduce hardware requirements by using smaller and less expensive machines, and decrease solution turnaround time allowing you to analyze more designs.