Siemens PLM Software and Microsoft Alliance
Maximize the Return on Your PLM Investment
Innovation is moving great ideas into real world products. It is your business. It's our business too. Siemens PLM Software and Microsoft® are providing integrated tools and technologies that make your Product Lifecycle Management strategy more effective and more efficient than ever before.
Integrated technologies from Siemens PLM Software and Microsoft allow you to maximize the return on your PLM investment by extending PLM to every device, collaborating without barriers, and simplifying your IT complexity.
Extend PLM to Every Device
Microsoft and Siemens deliver solutions to help you extend PLM to every device. This enables you to lower training costs, improve productivity and streamline your processes.
Collaborate without Barriers
From productivity tools, to knowledge capture, activity feeds and everything in between, you can enable collaboration across your organization with a rich suite of collaboration tools built on Microsoft SharePoint and Teamcenter's PLM backbone.
Simplify Your IT Complexity
Microsoft and Siemens PLM Software can help to simplify the IT complexity of PLM. Leveraging integrated solutions and innovated products by your trusted business partners – Microsoft and Siemens PLM Software – you can lower your total cost of ownership, increase IT agility and reduce your overall risk.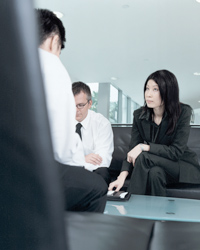 Solution Focus
Teamcenter in Microsoft Office
Microsoft Office in Teamcenter
Teamcenter and Microsoft Outlook
JT2Go in Microsoft Office
Teamcenter community and SharePoint
Solid Edge InSight and SharePoint
Teamcenter on Microsoft SQL Server
Teamcenter on the Windows Azure cloud solution (IaaS)
Teamcenter and Microsoft Dynamics ERP
Tecnomatix Jack and Kinect for Windows
Teamcenter, Velocity, Tecnomatix, NX on Windows and Windows Server