Personalized Product Innovation for Medical Devices
End-to-end development of personalized medical devices and patient-matched orthopedics

Medical device companies are experiencing competitive and cost pressures from multiple sides. On one hand, competition arising from emerging markets demands high-volume, simple devices with lower costs, exerting pressure on prices globally. On the other hand, companies face competitive pressure from new sources of medical device innovation like additive manufacturing, which enables one-of-a-kind manufacture of patient-specific surgical instruments and implants.
In addition, there is a transformation happening in the healthcare industry in which diagnostic and therapeutic treatments need to be increasingly personalized, with patient-specific treatment aligned to individual patient conditions, improving therapeutic benefits and – in many cases – lowering overall costs.
These trends require medical device companies to stay competitive and meet new market demands. To support this change, companies must evolve their business models to support personalized products in addition to a traditional build-to-stock business. This situation creates the need for business and technical systems that flexibly adapt to both personalized and build-to-stock delivery of medical products, and more pointedly, provision new and systemic support for "Personalized Product Innovation" to achieve success in the growing personalized device market.
Process Automation for Personalized Product Innovation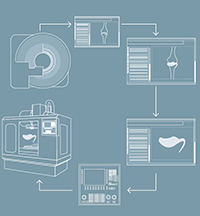 We provide a complete and integrated solution for medical device companies who are challenged to bring new personalized medical devices to market while meeting demand volume and cost-efficiency targets. Our solutions enable a highly automated image to implant process for developing personalized medical devices and therapies.
Beginning with a MRI or CT image of patient anatomy, and ending with personalized medical devices, our integrated product lifecycle management (PLM) platform and applications will help you achieve speed and accuracy requirements along the entire process chain.