Industrial Machinery Catalyst
Machinery catalyst provides industrial machinery manufacturers with best practices, process support and examples of how to speed machinery design software deployment
Industrial machinery manufacturers face many challenges, including increased competitive pressure from low-cost providers, the need to produce smarter machines, demand for customized machines, and regulatory pressures. Improving the productivity of the product development process is critical to addressing these challenges. Doing so gives machine manufacturers the ability to operate faster, deliver better and more consistent product quality, and minimize lifecycle costs.
Siemens PLM Software offers an integrated Advanced Machine Engineering solution to virtually design, develop and commission machines supported by a concurrent, multidisciplinary engineering platform, allowing the development of modular machines that can be rapidly configured and confidently assembled to meet your customers' requirements.
The industrial machinery catalyst accelerates time-to-value for implementing Advanced Machine Engineering, while providing an environment for swift adoption of future machinery design software and related technologies.
Accelerating the move from CAD data management to engineering process management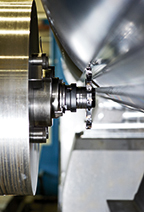 The industrial machinery catalyst helps you move from computer-aided design (CAD) data management to engineering process management, providing the ability to:
Maximize re-use of platform architecture, library resources, bills of materials (BOMs), and platform and product configuration management
Drive technical specification requirements using integrated mechanical and electrical design and drawing management
Use project management to satisfy specific requirements
Integrate change management to improve quality and speed
Provide a model-centric drawing release process
The industrial machinery catalyst enables faster and easier machinery design software deployment. This provides a better way for you to adapt PLM to your business by delivering an out-of-the-box deployment package that integrates industry-specific best practices with industry-neutral common practices, resulting in a customized solution. All of this can result in accelerated launches, increased profitable growth, and reduced build costs.