Exact Iron
Collaborative manufacturing for superior heavy equipment performance

Heavy equipment machinery manufacturers face a growing set of challenges, such as increasing global demand, growing product and process complexity, and expansive environmental and safety regulations. These complexities and regulations lead to a high number of product variants and multiple configurations incorporating mechanical, electrical and software requirements
This causes tremendous production challenges across multiple, vertically integrated manufacturing facilities, which leads to the need for unified knowledge management and re-use for all product development constituents – design, engineering and manufacturing. With the globalization pressure, this points to the need for more regionalized manufacturing while managing the risk of greater process variability, and inconsistent quality from plant to plant. Manufacturers need to be able to design for a global audience while manufacturing locally.
Heavy equipment manufacturers must also develop integrated engineering and manufacturing processes. In doing so, manufacturing process planning is shifted forward in the product development process so that it happens concurrently with design and engineering. When engineering and manufacturing collaborate and create process plans that are incorporated during the product design and development phase, high-quality, high-performing heavy equipment can be made consistently and cost-effectively, enabling you to deliver on your profitability goals. We call this new approach "Exact Iron" because it enables you to more efficiently and effectively integrate program teams and achieve greater success in this changing industry.
Collaborative Manufacturing for Heavy Equipment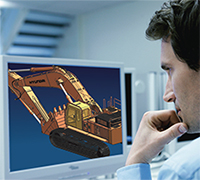 Siemens PLM Software's Collaborative Manufacturing solution helps you unify global design, engineering and manufacturing teams so that they are able to work on the same requirements, models and manufacturing process plans, while having the flexibility to meet local requirements. In this collaborative environment, you will benefit from better simulation and optimization of manufacturing planning, optimized design and manufacturing processes, and manufacturing intelligence connected with product development.