Make a Breakthrough with Engineered Energy
Enable smart innovation in the energy supply chain by improving cost control, project execution and risk management in capital projects

Rising incomes and global population growth push today's energy needs higher than ever. Energy market dynamics are increasingly determined by the emerging economies. Global capital expenditure (CAPEX) spending is constricted and companies in the energy/oil and gas supply chain must now streamline operational costs and improve operational efficiency. This has led many organizations to think about new ways of working across the energy supply chain and to remain competitive. Companies are turning to smart innovation and digitalization of capital project management and engineering design as a next-generation strategy.
Now is the time to consider digitalization as the basis of a systems-driven configuration approach to capital project management processes, and create a "digital thread" that connects your product development, project execution/handover, operations and maintenance. This integrated systems approach to the lifecycle of capital projects helps you become more disciplined in the way your organization executes the projects. You are able to maximize profitability by leveraging visualization, information and process management as key business strategies. We call this innovative and more efficient approach of digitalizing key capital project management processes "Engineered Energy." Engineered Energy helps you transform your organization into a "Digital Enterprise" and achieve greater confidence, visibility and agility in a dynamically changing industry.
Proven Solutions to Enable an Engineered Energy Approach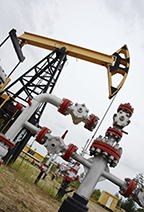 We offer a comprehensive set of solutions for each industry segment that enable you to achieve an Engineered Energy approach through visualization, process standardization and repeatable best practices.
The oil and gas industry is at the beginning of a very important supply chain. Productivity, efficiency, cost and risk reduction is paramount for all industry participants. Our PLM for Oil and Gas Owner/Operators solution helps owners and operators improve capital project execution and delivery with an integrated set of information interoperability and process management tools to dramatically change the way capital projects are planned, executed and managed.
Our PLM for Oilfield Services and Equipment solution helps oil and gas companies realize more reliable products, projects and operations for their clients. It enables a new level of innovation for oil and gas service organizations, moving from a product- and service-centered corporate culture to an information-centered culture that better leverages information technology and organization knowledge to cut costs, streamline operations and generate added value in capital project execution.
Diversity of energy is the power generation industry's manifesto because it takes all forms of energy to meet global demand. Companies in the power generation value chain are becoming more efficient in the delivery of new industry equipment, systems and assets. Our PLM for Power Generation solution provides lifecycle software solutions to enable an Engineered Energy approach to industry asset creation, project management and asset delivery.
The AEC and Infrastructure industry is coming together to work more collaboratively around a common model and language for the industry. The PLM for AEC and Infrastructure solution provides tools for design collaboration, construction execution, and interoperability of engineering design and construction data and processes.