Energy and Utilities Catalyst Delivers Best Practices
Accelerate time-to-value for critical energy and utilities industry business processes, including management of master document lists and transmittals
Innovation has transformed the energy and utilities industry, unlocking new sources of oil and gas. This innovation, coupled with geopolitical changes, has led to commodity price volatility. Industry participants now need to focus on better management of capital project execution, including the management of master document lists and transmittals, to cut costs and increase efficiency.
In order to maintain competitive positioning and prepare your enterprise for the next era of digitalization, visualization and information management, you will need to significantly enhance productivity throughout your enterprise and extended supply chain. The product lifecycle management (PLM) for Oilfield Services and Equipment solution helps you manage the lifecycle of capital project information and processes. The energy and utilities catalyst accelerates the deployment of the following process areas:
Bid and tender management
Master document lists and transmittals
Engineering and manufacturing
Modular fabrication and construction
Supply chain management
Operations and maintenance
The Siemens PLM Software energy and utilities catalyst accelerates time-to-value for implementing PLM, while providing an environment for swift adoption of future software and related technologies.
Digitalize core capital project information and processes to minimize costs and maximize efficiency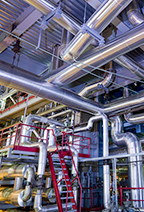 The energy and utilities catalyst delivers industry best practice models that help you unite key information across the entire product lifecycle. Deployment accelerators include recommended products, network design decisions, configuration procedures, and user training. Open and configurable software allows you to control the appearance and behavior of a PLM implementation. These include data model extensions, data structures and validation checks.
The energy and utilities catalyst provides preconfigured elements for activities such as defining data objects and roles that can be used in automated workflows. It also supports:
Departmental schedule management
Visualization
Corrective and preventative actions (CAPA)
Change management
Electronic work instructions
The energy and utilities catalyst enables industry participants to accelerate the transformation to the digital enterprise, optimizing productivity with preconfigured elements for key capital project processes. This allows all participants in the energy and utilities supply chain to cut costs and maximize efficiency.