Digital Breakthrough
Accelerate your new product development and introduction and Internet of Things manufacturing processes to bring electronic products to market faster, with high quality and low cost

Several key trends today impact the ability of companies to create the next breakthrough innovation in electronic products.
The Internet of Things (IoT) represents the trend of rapidly growing numbers of embedded sensors, integrated circuits (ICs), and miniaturized electronics that allow consumer and industrial devices to interact with other devices wirelessly. According to Gartner, the connected population is expected to expand to 26 billion connected devices by 2020. As the volume of new devices increases to meet the demands of the IoT, product launch failure rates remain at approximately 50 percent, which puts hundreds of billions of dollars at stake for the electronics manufacturers who want to improve the success of IoT manufacturing and new product launches.
Miniaturization continues to drive the need for innovation because consumers expect smarter and eco-friendly devices, in smaller form factors, at reduced prices and higher quality. This is not limited to hand-held consumer products; industrial consumers are looking for any opportunity to replace larger, heavier, high-energy-consumption products with smaller, more efficient devices.
Companies are now motivated to implement "smart manufacturing" principles in electronics production. This includes the insourcing or near-sourcing manufacturing operations due to increasing labor costs in traditionally low-cost manufacturing countries, as well as to fulfill the need for products in a build/configure-to-order marketplace.
We call our approach to addressing these trends "Digital Breakthrough," because it enables you to optimize your new product development and introduction (NPDI) process, implement smart manufacturing initiatives and get breakthrough innovations to market faster, with low cost and high quality.
Digital Breakthrough helps you manage the growing costs and risks of new technology development. You are able to optimize the processes used across the enterprise and supply chain in order to decide which products you will produce, how and where products will be built, and how to accurately and consistently predict cost, quality, and compliance before committing expensive design and manufacturing resources.
NPDI Cost and Risk Management provides accelerated development with high quality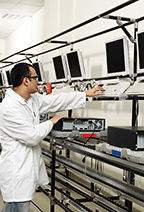 Siemens PLM Software provides an integrated solution for NPDI Cost and Risk Management that helps you achieve accelerated development and manufacturing with high quality, and low cost. This solution allows you to continuously manage costs, requirements, and design specifications across all phases of the NPDI process, while validating design and manufacturing activities to conform to design intent and customer expectations. In addition, you can employ new approaches to evaluate modular, cost-effective, alternate products, and proactively manage sustainability and substance related product regulations.
Siemens PLM Software helps electronics and semiconductor companies achieve real business value, by helping to drive innovation and get your next digital breakthrough product to market faster.