Essentials for Excellence in Automotive Design and Engineering
Make smarter decisions and build better products with enhanced tools and technologies for product development helping to increase design, simulation and manufacturing productivity.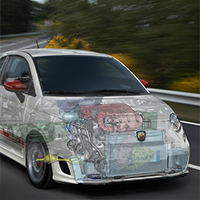 Consumers all over the world have more vehicle choices than ever before. As an automotive manufacturer or supplier, this means that you are under tremendous pressure to deliver innovative, high-quality vehicles as efficiently as possible.
However, what do you look for in a product lifecycle management (PLM) and digital manufacturing (DM) solution? What are the basic capabilities your company can implement today, to start making better products?
Join us for an informative webinar to learn how Siemen's NX™ enables a company to not only design and develop great products, but help it to respond quickly and insightfully to new market opportunities and challenges. Take a look at NX's core capabilities:
Seamless flow of information. With new modular design capabilities in NX, users can subdivide designs into separate functional elements that support concurrent development by multiple designers. Users can subdivide designs into isolated, self-contained functional elements with modular interfaces in an organized structure.
Earlier analysis and fewer physical prototypes. The design validation tools in NX help designers understand and realize product development targets. NX validation now provides a visually rich and more flexible feedback environment that helps you to quickly locate, diagnose, and fix problems, ensuring that your designs comply with standards and fulfill requirements.
Cost Reduction through increased levels of re-use. NX Product Template Studio (PTS) enables efficient re-use of parametric CAD models. Designers use PTS to design and store a simplified user interface inside any NX parametric design. Adopters of PTS report tremendous time savings as effort previously spent inspecting and modifying complex models is eliminated.
Innovation though continuous collaboration.With this in mind, Siemens PLM Software introduced High Definition 3D (HD3D) technology, enabling design teams to instantly gather data and visualize its impact directly within the context of the 3D design.
Register today and see for yourself how NX's product development technology can not only help companies address the challenges posed by an increasingly complex, competitive business environment – but use product and market complexities as a competitive advantage. You might also find these additional resources useful in terms of what our NX Product Engineering suite has to offer an automotive manufacturing or supplier such as yourself.
Nissan Motor Case Study

Learn how Nissan leveraged Siemens NX in a highly successful PLM implementation, and reduced vehicle development time by nearly 50 percent, improved quality by 80 percent, and exceeded ROI targets.
Read More

Mahindra Ugine Steel Co (MUSCO) Case Study

Read about the use of NX in the Stamping division of Mahindra Ugine Steel Co. Ltd, India. It describes how NX Stamping Die Solution set has helped them to reduce Die design time and costs and improve productivity.
Read More