Solid Edge and CAM
Transform your product design and manufacturing with best-in-class 3D CAD/CAM software. Get Solid Edge and CAM Express in discounted bundles.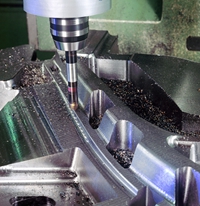 Solid Edge and CAM Express bundles combine professional 3D CAD software with best-in-class computer aided manufacturing (CAM) software to significantly enhance your product design and manufacturing performance. These discounted bundles enable you to:
Create 3D digital models of your products using Solid Edge and enrich your 3D digital models throughout the product lifecycle to speed time-to-market and deliver world class products to your customers
Start with a discounted bundle that adds capabilities for 2.5 axis machining operations for a low add-on cost
Select further packages with additional CAM functionality including 3 axis milling and turning
Maximize the value of your investments in the latest, most efficient and most capable machine tools
CAM Express is a modular, flexible configuration of numerical control (NC) programming solutions that are easy to deploy and easy to learn, and that provide powerful NC programming with a low total cost of ownership
These bundles enable you to add the comprehensive CAM capabilities of CAM Express to Solid Edge at a significantly discounted cost compared with purchasing separate software packages.