Manage Performance with Improved Innovation
Discover how leading automotive suppliers are driving innovation & performance by taking control of requirements, schedules and processes.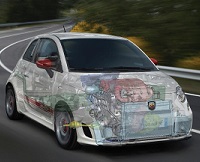 On demand
When you look at the past 20 years, cars have changed from transportation to a way of life. Consumers aren't looking at the outside anymore, instead they're dazzled by the connectivity, safety, comfort and energy efficiency of a new car.
How is your company taking advantage of this new business? More and more automotive technologies and innovations are happening at the supplier level. In fact, suppliers who are products innovators achieve an above average margin of 8% compared to the rest. Do you have the software and systems you need to?
Develop the right products for your customers
Deliver products on time
Be agile in responding to change
You will learn how you can grow from basic engineering data and process management to a PLM system that drives product innovation. You will see how PLM can support business-wide collaboration and streamline processes. You will also learn how managing requirements and schedules is just as critical to your success as managing design data.
Register for this webinar today, to see how you can help position your company for greater product innovation and business growth, in the fast-changing automotive market.