Driving Engineer-to-Order Differentiation and Profitability
Analyzing Trends and Best Practices in Product Configuration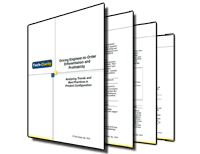 Customized products are more compelling to customers and drive higher profitability. They can also create chaos in sales proposal and order fulfillment processes as engineers scramble to develop cost estimates, customized designs, and detailed manufacturing and sales documentation. This engineer-to-order (ETO) study finds that some companies have found better ways to design custom products, alleviating the engineering bottleneck created in most companies when quotes requests or orders roll in.
This report investigates trends in customization and digs deeper into these best practices. The analysis finds that manufacturers achieving the highest sales and profitability growth, The Top Performers, place more strategic emphasis on rapid quote and order turnaround. They also perform better when executing orders, experiencing significantly fewer errors.
To write this paper Tech-Clarity gathered and analyzed just over 200 responses to a web-based survey on Product Configuration and "To Order" Manufacturing. Survey respondents were invited by direct e-mail, social media, and online postings by Tech-Clarity, Engineering.com, and Siemens PLM.
Learn how Top Performers relieve engineering bottlenecks, leading to better order performance and financial results. Request this paper today!