Compare History-based CAD to Synchronous Technology
Free eBook exposes the flaws of History and debunks myths about Synchronous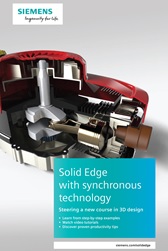 See how easy it is to learn CAD techniques with this free eBook on Solid Edge with synchronous technology. In the chapters that follow. See how easy and powerful it is to determine your design intent at the moment when you need it. In these chapters, we first discuss the concepts involved in synchronous, then work through examples of how you can apply it to real geometry. Work with imported data like it's native. Never have to worry about the feature tree again! We'll guide you through a step-by-step approach to synchronous technology and share some compelling examples that will help to demystify what synchronous technology is, and how it can revolutionize the way you work. This free eBook:
Helps history based users understand how synchronous technology works
Demonstrates common edits in individual parts and in the context of assembly with text and video tutorials
Includes a glossary of industry buzzwords
You'll quickly get up to speed on the essentials of Solid Edge with synchronous technology and learn how easy CAD can be.
About the author:
Matt Lombard is a mechanical engineer with over 20 years of experience. Matt founded the blog Dezignstuff.com, which engaged the technical side of the CAD community, and has written several CAD books, covering topics from surfacing to CAD Administration. Matt joined Siemens PLM Software in 2013.