Frost & Sullivan Global Product Performance Intelligence Award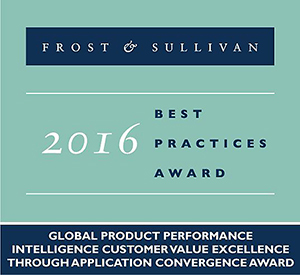 Omneo, a cloud based, software-as-a-service (SaaS) solution from Siemens PLM Software, is the recipient of the Frost & Sullivan's 2016 Customer Value Excellence through Application Convergence Award. Omneo beats the competition by delivering the product performance intelligence needed to make impactful decisions across a global value chain and providing greater visibility into both products and supply chain performance. Omneo enables easy discovery and monitoring of supplier issues, prevents costly recalls, spots emerging trends, solves quality problems faster, and improves the customer's experience. As part of the Siemens PLM Software portfolio, Omneo is backed by world class industry experience and trusted partners.
The award write up, which includes key benchmarking criteria and the Frost & Sullivan research methodology is available for download to the right and a few highlights are below.
Disruptive Capability of the Application
"Omneo can aggregate and analyze varied context from multiple data sources within seconds. It allows customers to visualize data from disparate sources on a single platform, eliminating the time and costs required by traditional product performance analytics solutions. The capability to search and discover issues that were previously unfounded distinguishes Siemens from its competitors. Omneo can harness previously inaccessible data sources to help pinpoint product and supply chain issues."
Customer Service Experience
"The ability to provide insights-as-a-service (InSaaS) across several functional stakeholders (manufacturing, design, quality, procurement, etc.) and product quality attributes further accentuates Omneo's disruptive capability in the market."