Essentials for Excellence in Automotive Process Management
With intelligently integrated solutions built on a future-proof architecture, Teamcenter helps you deliver increasingly complex products to market while maximizing productivity and streamlining global operations.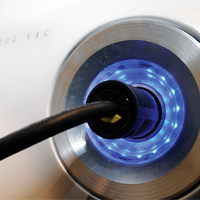 Consumers all over the world have more vehicle choices than ever before. As an automotive manufacturer or supplier, this means that you are under tremendous pressure to deliver innovative, high-quality vehicles as efficiently as possible.
However, what do you look for in a product lifecycle management (PLM) and digital manufacturing (DM) solution? What are the basic capabilities your company can implement today, to start making better products?
Join us for an informative webinar to learn how Siemen's brings together your company's product and process knowledge to help you make smarter decisions. Take a look at Teamcenter's core capabilities.
Intelligently integrated information. With new modular design capabilities in NX, users can subdivide designs into separate functional elements that support concurrent development by multiple designers. Users can subdivide designs into isolated, self-contained functional elements with modular interfaces in an organized structure.
Process enablement. Teamcenter provides automated workflows to ensure processes and changes are consistently managed to ensure efficient control and execution. Teamcenter's change and revision management supports the Institute of Configuration Management standards (CMII) and other industry standards.
Configuration management. Teamcenter manages and presents BOM and product configuration information from wherever it's created to wherever it's needed, including complete lifecycle representations.
Align development and manufacturing. Teamcenter allows you to integrate your product design and production execution processes in a single platform to minimize time to volume production.
Register today and see for yourself how Siemens PLM Software's Teamcenter brings together your company's product and process knowledge, so you can take control of the product lifecycle, reduce costs and maximize productivity. See what Teamcenter has to offer an automotive manufacturing or supplier such as you.
Ford Motor Company Case Study

Learn how Ford Motor Company has realized $100+ million in warranty cost savings using PLM technology to manage in-vehicle software (ISV) and has greatly reduced repair work. This video shows Ford executives discussing the value and benefits they've experienced in using Teamcenter to manage product software.
Watch Video

Chery Automobile Case Study

Read about Teamcenter supports China's fourth-largest automotive OEM in its efforts to capture a greater share of the country's exploding automobile market.
Read More