Predictive Launch
Predictive launches in an era of growing complexity in automotive manufacturing processes

Launching a modern car program is an extremely complex process. Automakers have to make sure that their next generation of cars is not only energy efficient, but also built from materials with the least energy footprint. It is estimated that, in the next five years, the automotive industry will increase investment in lightweight materials by 80 percent. These materials will require a different set of manufacturing and assembly processes.
Energy and environmental concerns are also driving changes in automotive manufacturing processes. Carmakers are increasingly optimizing the energy use in production facilities. What if the energy usage of the production processes can be predicted and optimized before installing the assembly lines?
Globalization is forcing carmakers to find ways to consolidate their platforms, thereby reducing the cost of designing and manufacturing cars for the global markets. Such strategies require car programs to implement standardized manufacturing processes that can be efficiently deployed across global locations. The ability to manage and predict global production scenarios is a key opportunity during the planning process.
Automakers are also facing increasing competitive pressure to cut down their time-to-market. Program launch schedules have been halved over the past decade, and the trend will continue. This is possible only if the physical installation and rework time are significantly reduced by doing manufacturing feasibility and validation analysis digitally.
Customers are demanding more options and personalization in their cars. Whether it is the car's performance characteristics, safety features or entertainment options, consumers want to customize cars as per their taste. For automakers, that makes the number of buildable combinations rapidly increase, requiring flexible manufacturing processes that can handle large variations in configured product.
To realize improved launch readiness, faster ramp-up to volume and first-time quality, automotive manufacturers need to consider opportunities to establish a common and managed environment that is collaboratively linked to product engineering for early exposure and development of manufacturing systems. This enables manufacturing teams to quickly evaluate new, innovative manufacturing technologies across the manufacturing organization, as well as improve quality, transparency and accuracy in launch execution to better manage product costs and manufacturing investment, and minimize launch delays. We call this new, more efficient approach "Predictive Launch", because it enables automotive manufacturers to achieve greater collaborative development of manufacturing systems.
Integrated Manufacturing solutions to support predictive vehicle launch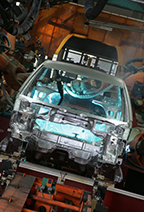 Siemens PLM Software provides an Integrated Manufacturing solution that helps automakers execute global car programs across the world with maximum efficiency. Our solutions have helped leading OEMs to achieve their first-time quality goals. They were able to ramp up their production volume quickly by making sure that assembly lines are balanced and optimized. Our PLM tools also support modular platform strategies that are adopted by OEMs to reduce costs overruns related to manufacturing increasing variants of a car model.
This is accomplished through collaborative development of manufacturing systems including:
A managed environment for early access to product engineering data during manufacturing system development
Integrated validation of manufacturing to optimize process productivity and efficiency
Fast and efficient process development
Predictable program performance and profitability