Integrated PLM Solution for ISO 26262
The Siemens PLM Software solution addresses the functional safety challenges of automotive electronics development
A key challenge for automotive companies is the safety issue caused by electrical/electronics (E/E) systems malfunctions, which is the number-one cause of recalls. Compliance with ISO 26262, an international automotive E/E system functional safety standard, helps you improve safety and brand image, reduce legal liability and satisfy future government regulations.
With deep ISO 26262 domain expertise and understanding of automotive industry needs, our integrated product lifecycle management (PLM) solution helps you achieve ISO 26262 compliance while:
Minimizing change and integration efforts
Reducing required time and effort to improve quality
Supporting full lifecycle and cross-domain data management
Leveraging your existing PLM solution capabilities
The Siemens PLM Software functional safety catalyst for ISO 26262 compliance is a customizable solution built on the powerful Teamcenter software platform. It can easily be integrated with your existing automotive E/E system solution to support an ISO 26262-compliant E/E system development process.
Faster, easier and better ISO 26262 development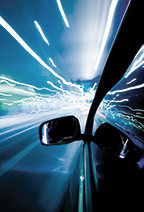 The functional safety catalyst provides a guided user interface, built-in business logic, error checking, and automatic document and safety case generation, which helps automotive electronic developers achieve ISO 26262 compliance with less time and effort, while improving quality by reducing human errors.
The catalyst-built ISO 26262 compliant data model manages the data revisions and relationships, so you are able to manage data traceability, sharing and re-use across domains and throughout the lifecycle. It also provides enhanced traceability management and impact analysis. As an example, the catalyst can be used to check for invalid or out-of-sync traceability to ensure the consistency of ISO 26262 data.
The standardized process management provides you with enormous flexibility for adopting your existing process management practices. It also provides collaborative development and document-enabled requirements management to support the specific needs of ISO 26262 implementation, so you can define and tailor the safety lifecycle for each specific project.