Executing Program Innovation
Capitalize on innovation while improving overall program control and risk management

The automotive industry faces stricter fuel economy and emissions standards around the world, with varying deadlines for achievement through 2025. These fuel economy and emissions standards, along with improvements to safety, growth of intelligent mobility and customer desires for integrating their lifestyle into the vehicle, have automotive original equipment manufacturers (OEMs) using more electronics and embedded software content to achieve what is needed. The industry has also recovered nicely from the 2008 recession, and has returned to profitability and expects growth around the world and especially in Asia.
These trends are causing a fundamental change in vehicle technologies, requiring more innovation from automakers and suppliers in alternative propulsion, vehicle light-weighting and energy optimization. Adopting these new technologies and product innovations drives more interaction across vehicle systems and components. Vehicle systems integration of mechanical, software and electronic components is key to meeting performance targets. Automotive suppliers need to expand their overall electronics and embedded software capabilities to make sure they understand these interactions and their effect on vehicle attributes and overall program execution and delivery.
The global growth of the industry also increases the pressure on automotive suppliers to expand their own engineering, manufacturing and supply chain networks around the world, which adds program and operational complexity.
For automotive suppliers to realize more profitable innovation, they need to consider opportunities to optimize designs and improve validation earlier in the development process; enable cross-discipline development in a unified environment; quickly adapt to a changing global structure; and improve visibility into program execution and risk management. We call this new, more efficient approach "Executing Program Innovation", because it enables automotive suppliers to achieve greater success in this dynamically changing industry.
Supplier Innovation through Model-Driven Program Execution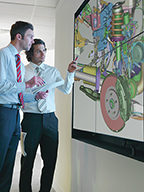 For automotive suppliers challenged to bring new technologies and products to market while improving overall program execution, Siemens PLM Software provides a complete, integrated automotive solution for Executing Program Innovation, from planning and design through manufacturing and support. Our Model-Driven Program Execution solution helps automotive suppliers to realize faster and earlier validation and optimization of systems and products, as well as reduce project risks to quality, product timing, performance and costs. Model-Driven Program Execution supports:
Comprehensive development of systems through model-driven simulation and validation
Fast and efficient design creation
Integrated validation of manufacturing to optimize process productivity and efficiency
Integrated program planning and costing for predictable program performance and profitability