Verification Management Catalyst Accelerates Time-to-Value
Verification management catalyst and software solution provide aerospace and defense companies with best practices, process support and a proven fast-track template to facilitate implementation
Aerospace and defense manufacturers and their suppliers often see delays in their ability to deliver completed products because they are unable to demonstrate product performance to requirements. This problem is exacerbated by the complexity of the global supply chain. It puts significant pressure on the company's financial performance and on their reputation for delivering on-time programs.
Siemens PLM Software's Verification Management solution provides the ability to manage requirements, plan and schedule verification activities, perform computer-aided engineering (CAE) analysis, configure and manage test articles, and confirm compliance to requirements.
To accelerate implementation, the verification management catalyst tailors the broader Siemens product lifecycle management (PLM) solution elements specifically to support the verification management business process in the aerospace and defense industry. The catalyst provides the aerospace and defense companies with the ability to execute key business processes:
Requirements allocation to integrated product teams (IPTs), functional organizations, work breakdown structures (WBS), systems and assemblies
Verification planning by creating a master verification plan
Verification through analysis and simulation
Verification through physical testing
Recording end-to-end traceability for verified requirements
Compliance and verification status reporting
The Siemens PLM Software verification management catalyst accelerates time-to-value for implementing PLM for aerospace and defense, while providing an environment for swift adoption of future software enhancements and related technologies.
Integrating core operations to maximize efficiency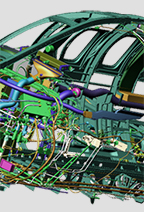 Siemens PLM Software provides a unique suite of tools and processes to dramatically change the way program teams plan, execute and report system verification.
The verification management catalyst provides best practices models and preconfigured elements for activities such as defining data objects and roles that can be used in automated workflows. The open and configurable software allows you to control the appearance and behavior of the Siemens PLM implementation, whether it is for a comprehensive PLM environment or a stand-alone verification environment. Deployment accelerators include recommended product selections, network design decisions, configuration procedures, deployment best practices and user training. It also provides the ability to:
Create and manage analysis and test requests
Create test engineering bills of materials (EBOMs) from product EBOMs
Create and manage test procedures
Create and compare test article physical BOMs from test EBOMs
Manage the instrument library, including calibration data
Generate verification management reports
Provide a status dashboard for verification activities
The verification management catalyst enables you to accelerate the digital transformation of your enterprise. This allows you to improve productivity and achieve greater availability and reliability while reducing the total ownership cost.