LMS Imagine.Lab Amesim Student Edition
Download a free student version of LMS Imagine.Lab Amesim system simulation software
An ideal way to start innovating, the LMS Imagine.Lab Amesim Student Edition is a free download of the LMS Imagine.Lab Amesim system simulation software for students. LMS Amesim is widely used by original equipment manufacturers (OEMs) and suppliers in the automotive, aerospace and other advanced industries.
With the LMS Amesim Student Edition, you can complete homework and team projects faster, while delivering accurate simulation results. By applying a model-based systems engineering approach, you can easily analyze innovative engineering ideas, balance product performance in intelligent systems and achieve optimized designs.
LMS Amesim Student Edition is a valuable resource for your educational success and your future engineering career. So get started now to download a free license for LMS Imagine.Lab Amesim Student Edition today.
Quick Grouping for Projects and Homework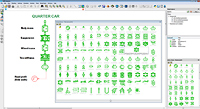 With mechanical, signal, hydraulic, pneumatic, thermal and electrics libraries, LMS Amesim Student Edition greatly simplifies multi-domain system modeling. You can connect validated components and save time by eliminating extensive programming. Validated library components are based on the analytical representation of physical phenomena. Just connect them together and run your model using accurate LMS Amesim solvers.
Easy Start to Model-based Systems Engineering
The LMS Amesim Student Edition comes with a lot of interactive help for new users. You can watch one of the many dedicated demos to easily get started with model-based systems engineering. It also provides you with a comprehensive set of methods, representations and animation capabilities that will help you analyze your design.
Real Innovation with the Right Analysis Tools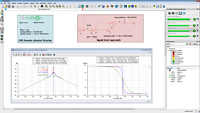 LMS Amesim Student Edition includes a large set of analysis tools, such as linear analysis, power and energy calculations, batch runs, plotting facilities and dashboards. The analysis tools help you understand and interpret the system behavior and highlight dynamic performance. You can adapt the level of modeling to get the most accurate time and frequency domains.
All Your Design Tools in One Box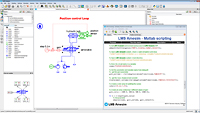 As an open platform, LMS Amesim Student Edition supports scripting facilities for Matlab, Python, Visual Basic Application or Scilab. Additionally, you can take advantage of the object-oriented nature of the Modelica language so you can develop, improve and re-use modeling libraries to describe multi-domain dynamic systems based on your libraries or other libraries.