Pneumatic System Simulation
Design pneumatic systems, networks and components, including thermal exchanges
The LMS Imagine.Lab Pneumatic System simulation solution is dedicated to the design of pneumatic systems, networks and components, including thermal exchanges. This solution helps you to develop new design concepts efficiently.
With a very large collection of pneumatic components (such as compressors, valves and actuators) and CFD1D piping, the pneumatic system simulation solution allows you to discover the right answers for the optimal development of complex systems.
The pneumatic system simulation solution offers a powerful, unique tool containing the basic building blocks of any pneumatic component and system. You can view this library as an engineering language to model pneumatic components such as cylinders, compressors, oxygen regulators, dampers, LPG injectors or any kind of pneumatic valve. Since these are component-based models, interpretation of the model layout is straightforward and intuitive.
The pneumatic system simulation solution includes a set of components which allow you to easily model and analyze the evolution of temperatures, pressures and mass flow rates in pneumatic networks. Based on a transient heat transfer approach, you can use the solution to model thermal phenomena in gases and study thermal evolution in these gases when they are exposed to different heat sources.
Model of pneumatic systems are numerically stiff, extremely nonlinear and often modeled with discontinuities. The LMS Imagine.Lab Amesim solver automatically and dynamically selects the most adapted integration method based on the particular system dynamics better than any other simulation software on the market.
Pneumatics System Capabilities
Pneumatics System provides you with these features: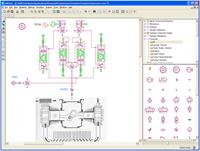 Perfect, semi-perfect and real gas assumption with rigorous handling of gas properties, mass momentum and energy conservation
Sonic, subsonic and laminar flow in orifices
Calculation of all required variables accessible during or after computation
Many standard components as well as all standard types of technology groups
Detailed models including pneumatic forces and flow forces
Pneumatics System Benefits
Pneumatics System helps you: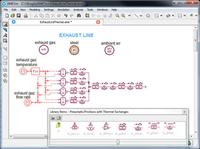 Use an efficient and low-cost alternative to prototyping or test rigging
Size pumps, valves and other components in your pneumatic system
Evaluate modifications of existing or new architectures at a predesign stage to anticipate potential gains
Design and evaluate the dynamic performance of any pneumatic component (such as valves and compressors)
Predict pressure peaks due to resonance, excitations or instabilities
Check thermal behavior under different operating conditions throughout an operating cycle