Simcenter Amesim Academic Bundle
The ideal package to teach model-based systems engineering and system simulation
The Simcenter Amesim Academic Bundle is a package created for universities. It is designed to help professors teach the best-possible product design courses and give students the hands-on experience they need to succeed in the job market.
Whether it is taught in the classroom or used in the engineering lab, the Simcenter Amesim Academic Bundle lets professors and students access the Simcenter Amesim libraries, application-oriented solutions, and comprehensive analysis tools at an affordable price.
Aimed at teaching model-based systems engineering and system simulation, the Simcenter Amesim Academic Bundle helps professors reinforce theoretical concepts with a practical, hands-on approach. The intuitive and efficient Simcenter Amesim user experience lets professors focus on teaching their engineering and design curriculum and not how to use the software.
Students using the Simcenter Amesim Academic Bundle find that they are able to complete their engineering projects faster and deliver accurate simulation results of innovative ideas. The Simcenter Amesim Academic Bundle is really an ideal tool to start designing right the first time and gain valuable experience to compete in the job market.
Model complex systems in minutes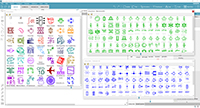 Model complex systems in minutes by combining validated components from multi-domain libraries and application-oriented solutions. Gone are the days of cumbersome numerical model creation and writing code to streamline model representation. Instead of spending time building a functional model, future innovators focus on the important stuff: design optimization.
Extend modeling capabilities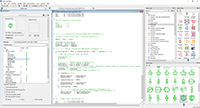 The Simcenter Amesim Academic Bundle comes with Submodel Editor, a comprehensive toolset that lets users extend the standard Simcenter Amesim component libraries. Submodel Editor will help your students write well-documented, standardized, re-usable and easily maintainable libraries.
Analyze system performance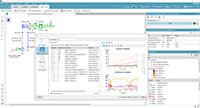 To explain system behavior and highlight dynamics, the Simcenter Amesim Academic Bundle offers various analysis tools, such as a performance analyzer, linear analysis or an activity index. Students can adapt the modeling level to maximize accuracy in the time and frequency domains. Comprehensive methods, representation and animation capabilities facilitate system analysis, too.
Connect to other simulation environments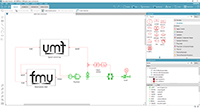 A generic co-simulation interface lets students interface the Simcenter Amesim Academic Bundle with third-party software via the co-simulation application programming interface or perform Simcenter Amesim-to-Simcenter Amesim co-simulation in a master-slave relationship. The solution also supports the functional mockup interface (FMI) to export and import models as functional mockup units.
Enhance your modeling libraries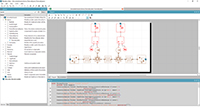 Using the Simcenter Amesim Academic Bundle, universities can take full advantage of the powerful, object-oriented nature of the Modelica® modeling language. Students can develop, improve and re-use modeling libraries to describe multi-domain dynamic systems based on existing or other available libraries.