Durability and Fatigue Analysis
Calculate Product Life Using In-Depth Durability and Fatigue Analysis
Your latest design may be lightweight and look great, but will it stand the test of time? How long a product lasts in operation greatly influences customers' perception of quality and reliability, and so the ability to predict product life early in the development process lets you more easily make the right engineering decisions. Physical fatigue and durability testing is extremely time-consuming and costly, and so the best way to evaluate product life is through durability and fatigue analysis.
NX CAE helps to validate a product's structural integrity over its entire lifecycle under either simple or complex loading conditions. Expert analysts can use NX CAE to perform in-depth fatigue analysis and life calculations to help them determine product durability based on NX Nastran, NX Motion, NX Response Simulation, MSC Nastran, Ansys and Abaqus solutions. Designers can also utilize durability wizards in their design environment to quickly check whether in-service loadings are likely to cause early failure in parts subjected to cyclic loads, and then quickly make the necessary design changes to compensate.
Integrated Durability Analysis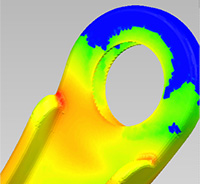 NX CAE allows you to perform in-depth fatigue analysis and life calculations. Designers can obtain early feedback on the life of designs using a guided process.
Analysis can be based on static or transient event data, with support for multiple life criteria. Contour plots can be created for fatigue life, damage and safety reports.
Complete Workflow, from Design to Motion to Durability
With NX CAE, you can save time and speed analysis by easily transferring motion simulation results from NX Motion as input for durability analysis. The entire workflow is completed without the need for manual data translations or transfers between different applications. When designs change, associativity to the CAD data means that results can be quickly updated.