Simulation Data Management and Automation
Retain, Track and Automate Accumulated CAE Data and Knowledge
Are you spending too much time looking for the right data to build your simulation models? How do you share CAE insights with other members of the development team? Simulation data management and CAE process automation add additional value beyond the use of the simulation technology itself, including:
Standardization of analysis methods
Greater speed and accuracy in building models
A tighter to link to product functional requirements
Wider access to the insights generated by simulation
Overall greater confidence in simulation-driven product decisions
NX CAE delivers these benefits by providing seamless integration with Teamcenter. Using the NX Open API and the Teamcenter capabilities for simulation process management, you can automate your CAE processes and manage simulation data.
Teamcenter Integration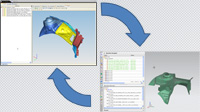 Access design and model data directly from Teamcenter, perform analyses, and save results and reports without having to leave your analysis environment.
Learn more about:
CAE Process Capture and Automation
Capture process steps through journaling and create wizard-like tools for use by designers and other non-frequent users of simulation technology.
Learn more about:
Performance Requirements Tracking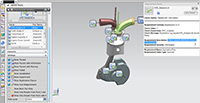 View performance requirements in the context of your product or assembly, and validate CAE results against these requirements.
Learn more about: