Software Developer Kit (SDK)
The PLM XML Software Developer Kit (SDK) is a collection of developer tools and utilities designed to simplify the task of implementing support for the PLM XML format in software applications that create and consume product data. Key benefits of using the PLM XML SDK include:
Reduced effort to implement PLM XML support in applications
Full support for published PLM XML schemas
Plug-in framework for rapid extensibility and connectivity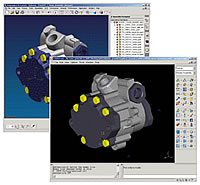 The PLM XML SDK deliverables include:
Available for free download, these are supplied with the SDK for completeness and simplicity. Inherently extensible, they describe product structure and associated product data, and include mechanisms for referring to external geometric part representations and to maintain associativity with them.
PLM XML Toolkit
This C++ class library is designed to enable you to build and navigate a run time model corresponding to the PLM XML schemas. The PLM XML schema entities are mirrored by C++ classes, which can be easily extended in accordance with any schema extensions that may be required.
The toolkit further supports a number of features that enhance the usability of PLM XML, organised within a flexible and extensible 'Plug-In' framework. Plug-ins which are created according to the prescribed API defined in the SDK documentation can simply be dropped into the relevant folder and will auto-register at run-time. These plug-ins are required to fulfil several roles which together deliver full PLM XML flexibility.
PLM XML extension plug-in:

You may wish to extend the schemas to enhance the breadth or depth of data that your application handles with PLM XML. You can simply extend the toolkit classes to suit, and the toolkit handles the packaged extensions automatically.

Data adapter plug-in:

A data adapter allows you to tap into a complex data format and extract the product structure and representations as PLM XML and references. Created as a run-time plug-in, the appropriate adapter can provide a stream of data to the toolkit, avoiding the need for explicit "save-as PLM XML" at any stage.
Facet Toolkit
The SDK comes equipped with a transport protocol for facet data, to enable the creation and sharing of this simple geometric representation for viewing purposes
Programming Examples
Example programs that demonstrate working with PLM XML for loading files, creating class extensions and developing Adapters are provided with a full PLM XML tutorial.
PCL utility class library
To help with implementing PLM XML we provide a library of utilities to help you manipulate data at the interface.
Documentation
The SDK comes with extensive high quality developer documentation, and to make life even easier it includes example implementations of everything from a full application to a data adapter plug-in.
The PLM XML SDK is a purchased product, please contact your Siemens PLM Software Sales Executive for pricing information.