Digital Enterprise for the Medical Device Industry
Digitalization. Shaping the future of healthcare and wellness for everyone, everywhere.

Digital Enterprise for the Medical Device Industry represents a holistic approach to product lifecycle management across the Ideation, Realization, and Utilization phases of a device lifecycle. In this way, we are weaving a digital thread with agility and precision, thus leveraging the power of digitalization through seamless connectivity of digital twins.

We provide powerful and differentiated capabilities, most notably with digital twins at each phase in the lifecycle process. But, it is critical to understand it is not merely twins of devices alone; it includes digital twins at the factory and manufacturing stages as well. Digital twins serve as models for use in simulation, thus enabling our customers to proactively and effectively predict, optimize and realize the engineered performance and quality of both products and manufacturing operations.

Furthermore, digital threads are woven into design, supplier and production controls in order to provide transparency and traceability across all functional boundaries, engineering disciplines, and lifecycle phases. The digital threads thus enable big data analytics to intelligently traverse complex relationships and generate insightful status reports, identify trends, and therefore provide significant benefits for the end user.

As changes are made to optimize performance, or address quality issues, digitalization enables our customers to efficiently cascade change, and accordingly error-proof this change via data-driven navigational processes which reduce the risk of late discovery medical device quality issues.
Integrated Systems in Medical Device Quality Management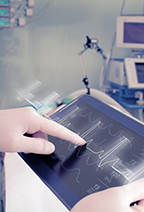 Accordingly, digital enterprise in med-tech now means much more than implementing the requisite quality standards. Our Quality solutions which are powered by seamless digitalization execution, span the entire lifecycle phase, and provide methodologies to ensure success at every stage. Our solution differentiators represent benefits which affect cost and confidence, and dramatically impact the bottom-line at organizations around the globe.